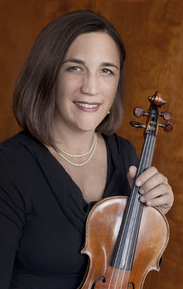 Kelly Howard
Welcome!

Based in Windsor Terrace Brooklyn, The Kelly Howard Studio is a Suzuki Violin program for students ages 3 and up. Director Kelly Howard was a Suzuki Violin student herself and has over 20 years experience with the Talent Education pedagogy. Working with Kelly are
Rachel Odo, Yolanda Wu, Weini Tekeste and Corinne Bennett.

The Kelly Howard Studio is deeply committed to helping young students grow and develop as they study the violin. We firmly believe that every student has remarkable potential and work with each of our students to access their unique talent. We work closely with parents to prepare them for their role as the "at-home practice coach" and know that, building upon the foundation of the Student-Parent-Teacher triangle, students can achieve their personal best.

Our new studio is conveniently located at
​225 Greenwood Avenue Windsor Terrace/Kensington.


---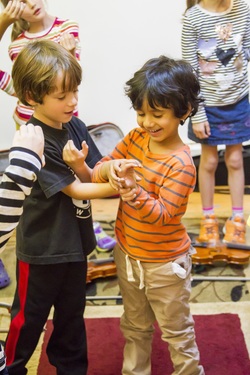 Group Class
All students in the studio attend weekly private and group lessons. Teaching is child-centered and private lessons are individualized and appropriately paced to enhance the learning process. Through private lessons, students and parents will learn new skills, fine tune repertoire and gain strategies and tools that foster personal growth along with musical development.

Group classes will provide training in ensemble skills, reinforce technique learned in the private lessons, expand students' listening and polished repertoires, develop audience skills, build friendships and motivate students in a positive way. It is amazing to watch our community flourish as long standing friendships are nurtured in our studio.

Daily practice and daily listening are also integral components of the Suzuki Pedagogy. Students should listen to the Suzuki recordings every day. We also encourage listening to music of all kinds as well as taking advantage of the wonderful opportunities to hear live music in New York City.

We support the philosophy of Dr. Suzuki, "Every child can be educated: it is only a matter of the method of education. Poor training produces poor ability. People should make every effort, even though it be difficult, to accumulate and build superior ability". We recognize that learning an instrument takes work, but we strive to make the experience a rich and joyful one!



---